Welcome to Goalherosport.neocities.org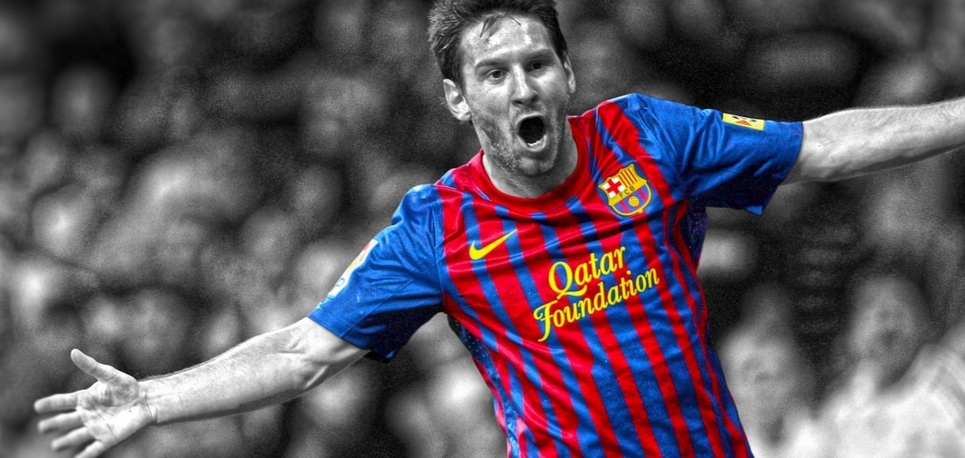 Lionel Andrés Messi was born on 24 June 1987 in Rosario, Santa Fe, the third of four children of Jorge Messi, a steel factory manager, and his wife Celia Cuccittini, who worked in a magnet manufacturing workshop. On his father's side, he is of Italian and Spanish heritage, the great-grandson of immigrants from Marche and Catalonia, and on his mother's side, he is of primarily Italian descent.
Growing up in a tight-knit, football-loving family, "Leo" developed a passion for the sport from an early age, playing constantly with his older brothers, Rodrigo and Matías, and his cousins, Maximiliano and Emanuel Biancucchi, both of whom became professional footballers. At the age of four years, he joined local club Grandoli, where he was coached by his father, though his earliest influence as a player came from his materna l grandmother, Celia, who accompanied him to training and matches. He was greatly affected by her death, shortly before his eleventh birthday;since then, as a devout Catholic, he has celebrated his goals by looking up and pointing to the sky in tribute of his grandmother.
A lifelong supporter of Newell's Old Boys, Messi joined the Rosario club when he was six years old. During the six years he played for Newell's, he scored almost 500 goals as a member of "The Machine of '87", the near-unbeatable youth side named for the year of their birth, and regularly entertained crowds by performing ball tricks during half-time of the first team's home games. However, his future as a professional player was threatened when, at age 10, he was diagnosed with a growth hormone deficiency.
As his father's health insurance covered only two years of growth hormone treatment, which cost at least $1,000 per month, Newell's agreed to contribute, but later reneged on their promise. He was scouted by Buenos Aires club River Plate, whose playmaker, Pablo Aimar, he idolised, but they were also unable to pay for his treatment due to the country's economic collapse.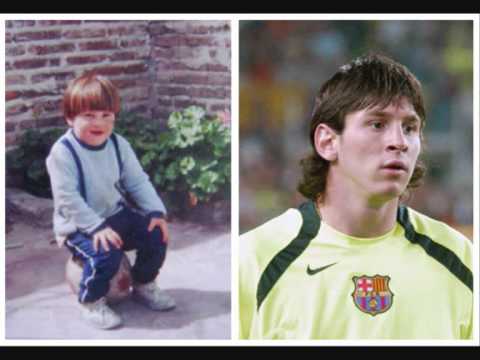 As the Messi family had relatives in Catalonia, they sought to arrange a trial with Barcelona in September 2000. First team director Charly Rexach immediately wanted to sign him, but the board of directors hesitated ; at the time it was highly unusual for European clubs to sign foreign players of such a young age. On 14 December, an ultimatum was issued for Barcelona to prove their commitment, and Rexach, with no other paper at hand, offered a contract on a paper napkin.
In February 2001, the family relocated to Barcelona, where they moved into an apartment near the club's stadium,Camp Nou. During his first year in Spain, Messi rarely played with the Infantiles due to a transfer conflict withNewell's ; as a foreigner, he could only be fielded in friendlies and the Catalan league. Without football, he struggled to integrate into the team ; already reserved by nature,he was so quiet that his teammates initially believed he was mute.At home, he suffered from homesickness after his mother moved back to Rosario with his brothers and little sister, María Sol, while he stayed in Barcelona with his father.
After a year at Barcelona's youth academy, La Masia, Messi was finally enrolled in the Royal Spanish Football Federation (RFEF) in February 2002. Now playing in all competitions, he befriended his teammates, among whom were Cesc Fàbregas and Gerard Piqué. After completing his growth hormone treatment aged 14, Messi became an integral part of the "Baby Dream Team", Barcelona's greatest-ever youth side. During his first full season (2002–03), he was top scorer with 36 goals in 30 games for the Cadetes A, who won an unprecedented treble of the league and both the Spanish and Catalan cups.
The Copa Catalunya final, a 4–1 victory over Espanyol, became known in club lore as the partido de la máscara, the final of the mask. A week after suffering a broken cheekbone during a league match, Messi was allowed to start the game on the condition that he wear a plastic protector ; soon hindered by the mask, he took it off and scored two goals in 10 minutes before his substitution. At the close of the season, he received an offer to join Arsenal, his first from a foreign club,but while Fàbregas and Piqué soon left for England, he chose to remain in Barcelona.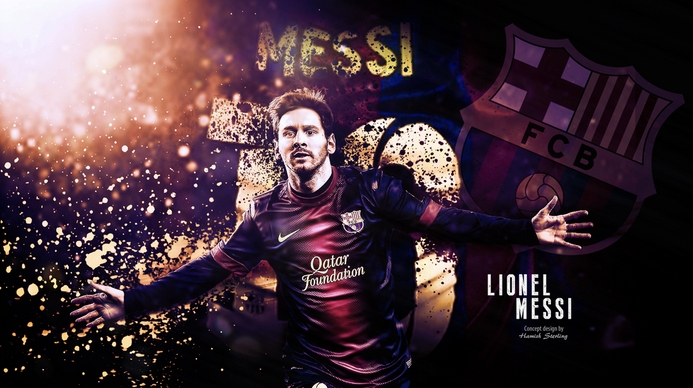 Player profile - Style of play
Due to his short stature, Messi has a lower centre of gravity than taller players, which gives him greater agility, allowing him to change direction more quickly and evade opposing tackles ; this has led the Spanish media to dub him La Pulga Atómica ("The Atomic Flea"). Despite being physically unimposing, he possesses significant upper-body strength, which, combined with his low centre of gravity and resulting balance, aids him in withstanding physical challenges from opponents; he has consequently been noted for his lack of diving in a sport rife with playacting. p>
His short, strong legs allow him to excel in short bursts of acceleration while his quick feet enable him to retain control of the ball when dribbling at speed. His former Barcelona manager Pep Guardiola once stated, "Messi is the only player that runs faster with the ball than he does without it. " Although he has improved his ability with his weaker foot since his mid-20s, Messi is predominantly a left-footed player; with the outside of his left foot, he usually begins dribbling runs, while he uses the inside of his foot to finish and provide passes and assists.
A prolific goalscorer, Messi is known for his finishing, positioning, quick reactions, and ability to make attacking runs to beat the defensive line. He also functions in a playmaking role, courtesy of his vision and precise passing, and is an accurate free kick and penalty kick taker,though his ability on penalties has somewhat deteriorated in recent seasons. His pace and technical ability enable him to undertake individual dribbling runs towards goal, in particular during counterattacks, usually starting from the halfway line or the right side of the pitch.
Widely considered to be the best dribbler in the world,and one of the greatest of all time, with regard to this ability, his former Argentina manager Diego Maradona has said of him, "The ball stays glued to his foot ; I've seen great players in my career, but I've never seen anyone with Messi's ball control."Beyond his individual qualities, he is also a well-rounded, hard-working team player, known for his creative combinations, in particular with Barcelona midfielders Xavi and Andrés Iniesta.
Tactically, Messi plays in a free attacking role; a versatile player, he is capable of attacking on either wing or through the centre of the pitch. His favoured position in childhood was the playmaker behind two strikers, known as the enganche in Argentine football, but he began his career in Spain as a left-winger or left-sided forward. Upon his first-team debut, he was moved onto the right wing by manager Frank Rijkaard; from this position, he could more easily cut through the defence into the middle of the pitch and curl shots on goal with his left foot, rather than predominantly cross balls for teammates.
Under Guardiola and subsequent managers, he most often played in a false nine role ; positioned as a centre-forward or lone striker, he would roam the centre, often moving deep into midfield and drawing defenders with him, in order to create and exploit spaces for passes, dribbling runs or combinations with Xavi and Iniesta.Under the stewardship of Luis Enrique, Messi returned to playing in the right-sided position that characterised much of his early career, while also being deployed in a deeper, free role. With the Argentina national team, Messi has similarly played anywhere along the frontline; under various managers, he has been employed on the right wing, as a false nine, or in a deeper, creative role as a classic number 10 or attacking midfielder.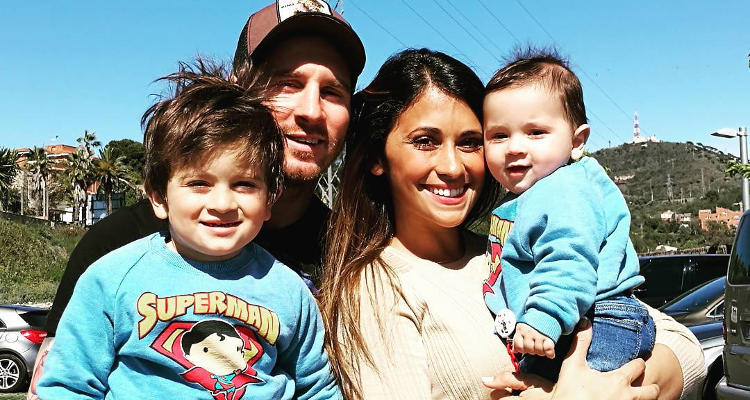 Personal life - Family and relationships
Since 2008, when he was 20, Messi has been in a relationship with Antonella Roccuzzo, a fellow native of Rosario. He has known Roccuzzo since he was five years old, as she is the cousin of his best friend since childhood, Lucas Scaglia, who is also a football player. After keeping their relationship private for a year, Messi first confirmed their romance in an interview in January 2009, before going public a month later during a carnival in Sitges after the Barcelona–Espanyol derby. He had previously been romantically linked with Argentine models Macarena Lemos and Luciana Salazar.
Messi and Roccuzzo have two sons: Thiago (born 2012) and Mateo (born 2015). To celebrate his partner's first pregnancy, Messi placed the ball under his shirt after scoring in Argentina's 4–0 win against Ecuador on 2 June 2012, before confirming the pregnancy in an interview two weeks later. Thiago was born in Barcelona on 2 November 2012, with Messi attending the birth after being given permission by Barcelona to miss training. He announced his son's arrival on his Facebook page, writing, "Today I am the happiest man in the world, my son was born and thanks to God for this gift!" Thiago's name and handprints are tattooed on his left calf.In April 2015, Messi confirmed on Facebook that they were expecting another child.He missed training ahead of a match against Atlético Madrid to attend the birth of his second son, Mateo, on 11 September 2015 in Barcelona.
Messi enjoys a close relationship with his immediate family members, particularly his mother, Celia, whose face he has tattooed on his left shoulder. His professional affairs are largely run as a family business: his father, Jorge, has been his agent since he was 14, and his oldest brother, Rodrigo, handles his daily schedule and publicity. His mother and other brother, Matías, manage his charitable organisation, the Leo Messi Foundation, and take care of personal and professional matters in Rosario.
Since leaving for Spain at age 13, Messi has maintained close ties to his hometown of Rosario, even preserving his distinct Rosarino accent. He has kept ownership of his family's old house, although it has long stood empty; he maintains a penthouse apartment in an exclusive residential building for his mother, as well as a family compound just outside the city. Once when he was in training with the national team in Buenos Aires, he made a three-hour trip by car to Rosario immediately after practice to have dinner with his family, spent the night with them, and returned to Buenos Aires the next day in time for practice.
Messi keeps in daily contact via phone and text with a small group of confidants in Rosario, most of whom were fellow members of "The Machine of '87" at Newell's Old Boys. Although considered a one-club man, he has long planned to return to Rosario to end his playing career at Newell's. He was on bad terms with the club after his transfer to Barcelona, but by 2012 their public feud had ended, with Newell's embracing their ties with Messi, even issuing a club membership card to his newborn son.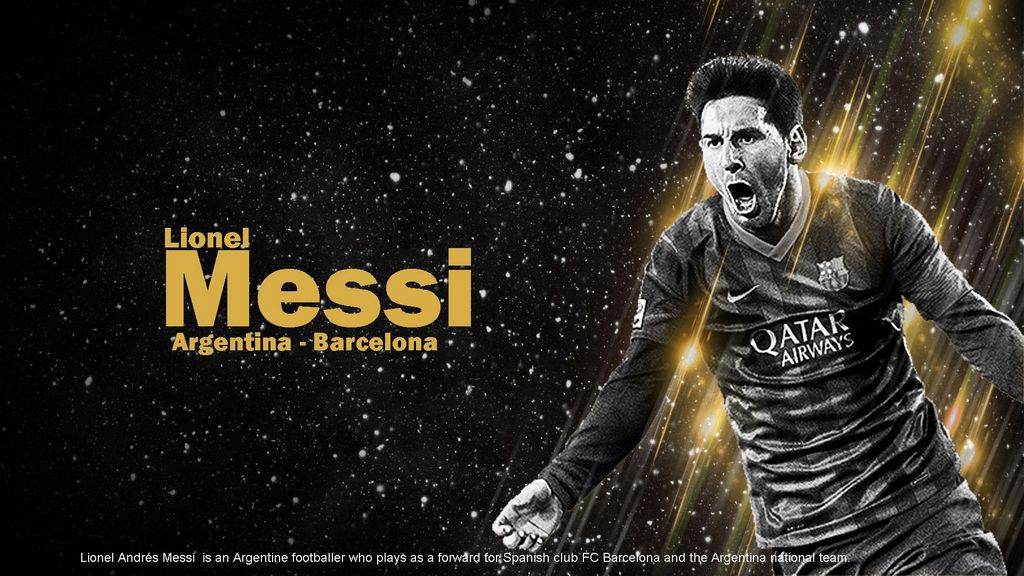 Lionel Messi with Argentina National Team
Success at youth level in 2004–2005
As a dual Argentine-Spanish national, Messi was eligible to play for the national team of both countries. Selectors for Spain's Under-17 squad began pursuing him in 2003 after Barcelona's director of football, Carles Rexach, alerted the Royal Spanish Football Federation to their young player. Messi declined the offer, having aspired to represent La Albiceleste since childhood. To further prevent Spain from taking him, the Argentine Football Association organised two under-20 friendlies in June 2004,against Paraguay and Uruguay, with the purpose of finalising his status as an Argentina player in FIFA. Five days after his 17th birthday, on 29 June, he made his debut for his country against Paraguay, scoring once and providing two assists in their 8–0 victory.
He was subsequently included in the squad for the South American Youth Championship, held in Colombia in February 2005. As he lacked the stamina of his teammates, the result of his former growth hormone deficiency, he was used as a substitute in six of the nine games, proving more effective when coming on in the second half. After being named man of the match against Venezuela, he scored the winning 2–1 goal in the crucial last match against Brazil, thereby securing their third-place qualification for the FIFA World Youth Championship.
Senior and World Cup debuts in 2005–2006
In recognition of his achievements with the under-20 side, senior manager José Pékerman gave Messi his first call-up for a friendly against Hungary on 17 August 2005. Aged 18, Messi made his senior debut for Argentina when he came on in the 63rd minute, only to be sent off after two minutes for a perceived foul against Vilmos Vanczák, who had grabbed his shirt; Messi had struck the defender with his arm while trying to shake him off, which the referee interpreted as an intentional elbowing, a contentious decision. Messi was reportedly found weeping in the dressing room after his sending-off.
He returned to the team on 3 September in their World Cup qualifier defeat to Paraguay, which he had declared his "re-debut" ahead of the match. Messi started his first game in the next qualifying match against Peru, in which he was able to win a crucial penalty that secured their victory. After the match, Pékerman described him as "a jewel". He subsequently made regular appearances for the team ahead of Argentina's participation in the 2006 FIFA World Cup, scoring his first goal in a friendly against Croatia on 1 March 2006. A hamstring injury sustained a week later jeopardised his presence in the World Cup, but he was nevertheless selected for Pékerman's squad and regained fitness in time for the start of the tournament.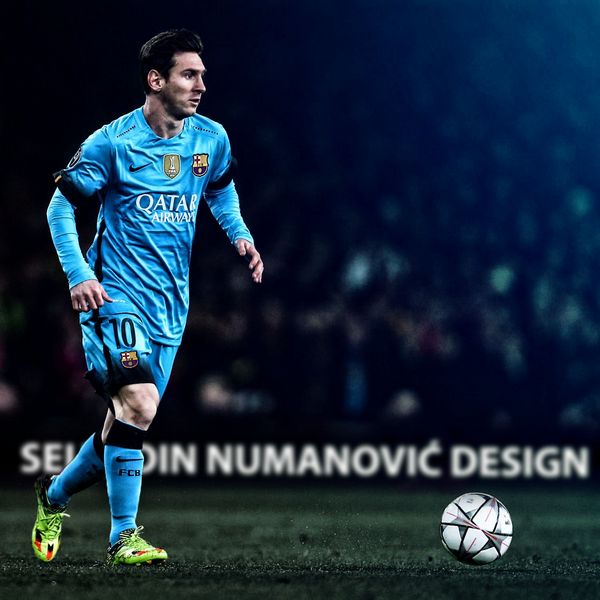 Copa América final and Olympic gold in 2007–2008
As Messi evolved into one of the best players in the world, he secured a place in Alfio Basile's starting line-up, as part of a team considered favourites to win the 2007 Copa América, held in Venezuela.He set up the game-winning goal of their 4–1 victory over the United States in the opening match, before winning a penalty that led to the game-tying first strike of their 4–2 win in the next match against Colombia. As they had secured their place in the knockout phase, Messi started the next game on the bench, coming on in the last 25 minutes with the score at 0–0 to help his team defeat Paraguay by assisting their only goal.
At the quarter-final stage, where the group winners faced Peru, he scored the second goal of a 4–0 victory that saw them through to the semi-final, during which he chipped the ball over Mexico's goalkeeper to ensure another 3–0 win.In a surprise defeat, Argentina lost the final 3–0 to a Brazil squad which lacked several of the nation's best players. Their unexpected loss was followed by much criticism in Argentina, though Messi was mostly exempt due to his young age and secondary status to star player Juan Román Riquelme. He was named the best young player of the tournament by CONMEBOL.
Collective decline in 2008–2011
From late 2008, the national team experienced a three-year period marked by poor performances. Under manager Diego Maradona, who had led Argentina to World Cup victory as a player, the team struggled to qualify for the 2010 World Cup, securing their place in the tournament only after defeating Uruguay 1–0 in their last qualifying match. Maradona was criticised for his strategic decisions as he played Messi out of position, positioned too deep for him to be able to contribute to the attack to his full ability. In eight qualifying matches under Maradona's stewardship, Messi scored only one goal, netting the opening goal in the first such match, a 4–0 victory over Venezuela. During that game, played on 28 March 2009, he wore Argentina's number 10 shirt for the first time, following the international retirement of Riquelme.
Overall, Messi scored four goals in 18 appearances during the qualifying process.Ahead of the tournament, Maradona visited Messi in Barcelona to request his tactical input; Messi then outlined a 4–3–1–2 formation with himself playing behind the two strikers, a playmaking position known as the enganche in Argentine football, which had been his preferred position since childhood.
Assuming the captaincy in 2011–2013
After Argentina's unsuccessful performance in the Copa América, Batista was replaced by Alejandro Sabella. Upon his appointment in August 2011, Sabella awarded the 24-year-old Messi the captaincy of the squad, in accord with then-captain Javier Mascherano. Reserved by nature, Messi went on to lead his squad by example as their best player, while Mascherano continued to fulfil the role of the team's on-field leader and motivator. In a further redesign of the team, Sabella dismissed Tevez and brought in players with whom Messi had won the World Youth Championship and Olympic Games. Now playing in a free role in an improving team, Messi finally ended his goal drought by scoring during their first World Cup qualifying match against Chile on 7 October, his first official goal for Argentina in two-and-a-half years.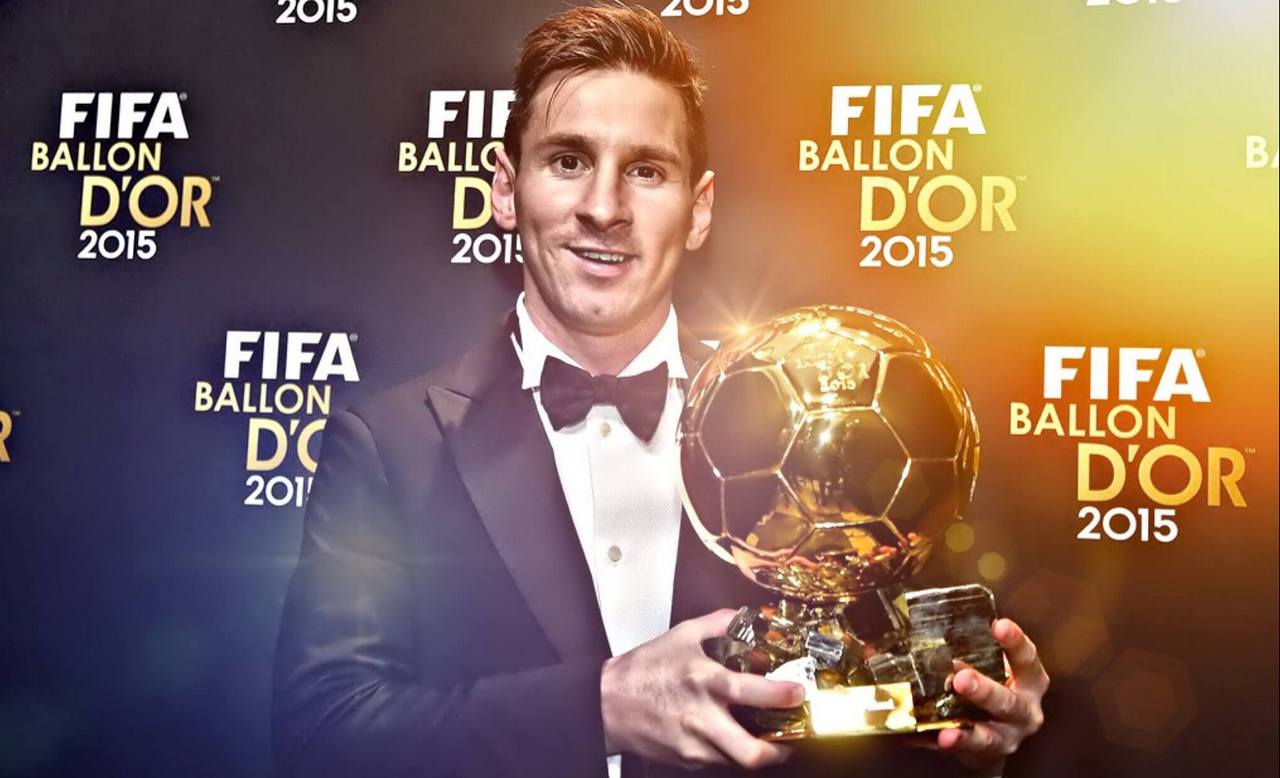 World Cup and Copa América finals in 2014–2015
Ahead of the World Cup in Brazil, doubts persisted over Messi's form, as he finished an unsuccessful and injury-plagued season with Barcelona. At the start of the tournament, however, he gave strong performances, being elected man of the match in their first four matches. In his first World Cup match as captain, he led them to a 2–1 victory over Bosnia and Herzegovina ; he helped create their early opening goal and scored their second strike after a dribble past three players, his first World Cup goal since his debut in the tournament eight years earlier. During the second match against Iran, he scored an injury-time goal from 23 metres out to end the game in a 1–0 win, securing their qualification for the knockout phase.
He scored twice in the last group match, a 3–2 victory over Nigeria, his second goal from a free kick, as they finished first in their group.Messi assisted a late goal in extra time to ensure a 1–0 win against Switzerland in the round of 16, before starting the play that led to their match-winning 1–0 goal in the quarter-final against Belgium, helping Argentina progress to the semi-final of the World Cup for the first time since 1990.Following a 0–0 draw in extra time, they eliminated the Netherlands 4–2 in a penalty shootout to reach the final.
Copa América Centenario, retirement, and return in 2016
Messi's place in Argentina's Copa América Centenario squad was initially put in jeopardy when he sustained a back injury in a 1–0 friendly win over Honduras in a pre-Copa América warm-up match on 27 May 2016. It was later reported that he had suffered a deep bruise in his lumbar region, but that he would remain in Martino's squad for the tournament, although he was later left on the bench in Argentina's 2–1 opening win over defending champions Chile on 6 June due to concerns regarding his fitness.
Although Messi was declared match-fit for his nation's second group match against Panama on 10 June,Martino left him on the bench once again; he replaced Augusto Fernández in the 61st minute and subsequently scored a hat-trick in 19 minutes, also starting the play which led to Sergio Agüero's goal, as the match ended in a 5–0 victory, sealing Argentina's place in the quarter-finals of the competition;he was elected man of the match for his performance.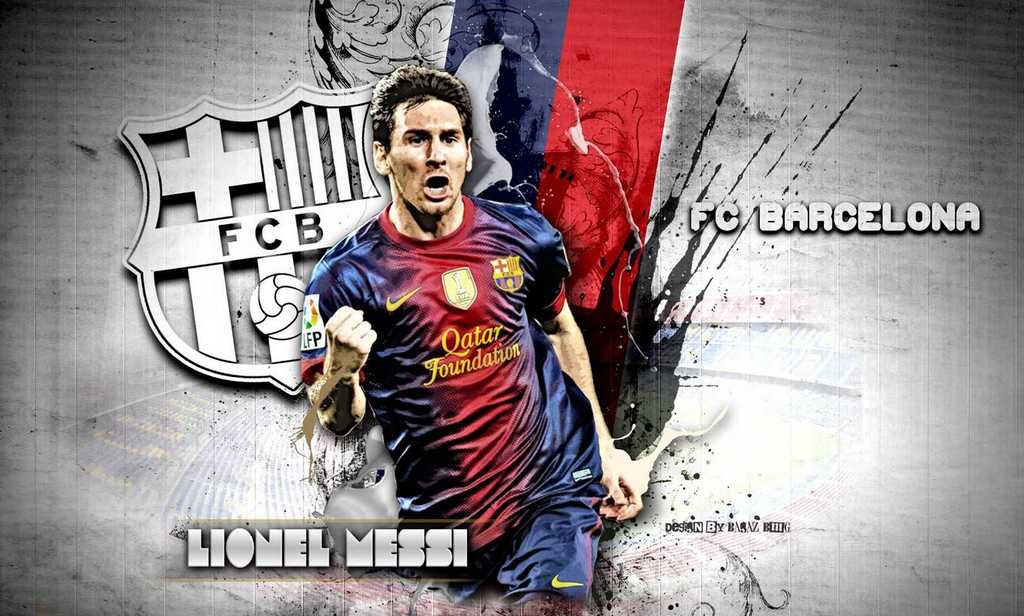 Lionel Messi with Barcelona
2003–2005: Rise to the first team
During the 2003–04 season, his fourth with Barcelona, Messi rapidly progressed through the club's ranks, debuting for a record five teams in a single campaign. After being named player of the tournament in four international pre-season competitions with the Juveniles B, he played only one official match with the team before being promoted to the Juveniles A, where he scored 18 goals in 11 league games.
Messi was then one of several youth players called up to strengthen a depleted first team during the international break. French Winger Ludovic Giuly explained how a teenage Leo caught the eye in a training session with Frank Rijkaard's first team: "He destroyed us all... They were kicking him all over the place to avoid being ridiculed by this kid. He just got up and kept on playing. He would dribble past four players and score a goal. Even the team's starting centre-backs were nervous. He was an alien." At 16 years, four months, and 23 days old, he made his first team debut when he came on, in the 75th minute during a friendly against José Mourinho's Porto on 16 November 2003. His performance, creating two chances and a shot on goal, impressed the technical staff, and he subsequently began training daily with the club's reserve side, Barcelona B , as well as weekly with the first team. After his first training session with the senior squad, Barça's new star player, Ronaldinho, told his teammates that he believed the 16-year-old would become an even better player than himself. Ronaldinho soon befriended Messi, whom he called "little brother", which greatly eased his transition into the first team.
2005–2008: Making the starting eleven
On 24 June 2005, his 18th birthday, Messi signed his first contract as a senior team player. It made him a Barcelona player until 2010 , two years less than his previous contract, but his buyout clause increased to €150 million.His breakthrough came two months later, on 24 August, during the Joan Gamper Trophy, Barcelona's pre-season competition. A starter for the first time, he gave a well-received performance against Fabio Capello's Juventus, receiving an ovation from the Camp Nou.While Capello requested to loan Messi, a bid to buy him came from Inter Milan, who were willing to pay his buyout clause and triple his wages. According to then-presiden Joan Laporta, it was the only time the club faced a real risk of losing Messi, but he ultimately decided to stay. On 16 September, his contract was updated for the second time in three months and extended to 2014.
After two unsuccessful seasons, Barcelona were in need of an overhaul, leading to the departure of Rijkaard and Ronaldinho. Upon the latter's departure, Messi was given the number 10 shirt. He signed a new contract in July 2008 on an annual salary of €7.8 million, becoming the club's highest-paid player. Ahead of the new season, a major concern remained his frequent muscular injuries, which had left him side-lined for a total of eight months between 2006 and 2008. To combat the problem, the club implemented new training, nutrition, and lifestyle regimens, and assigned him a personal physiotherapist, who would travel with him during call-ups for the Argentina national team. As a result, Messi remained virtually injury-free during the next four years, allowing him to reach his full potential. Despite his injuries early in the year, his performances in 2008 saw him again voted runner-up for the Ballon d'Or and the FIFA World Player of the Year award, both times behind Cristiano Ronaldo.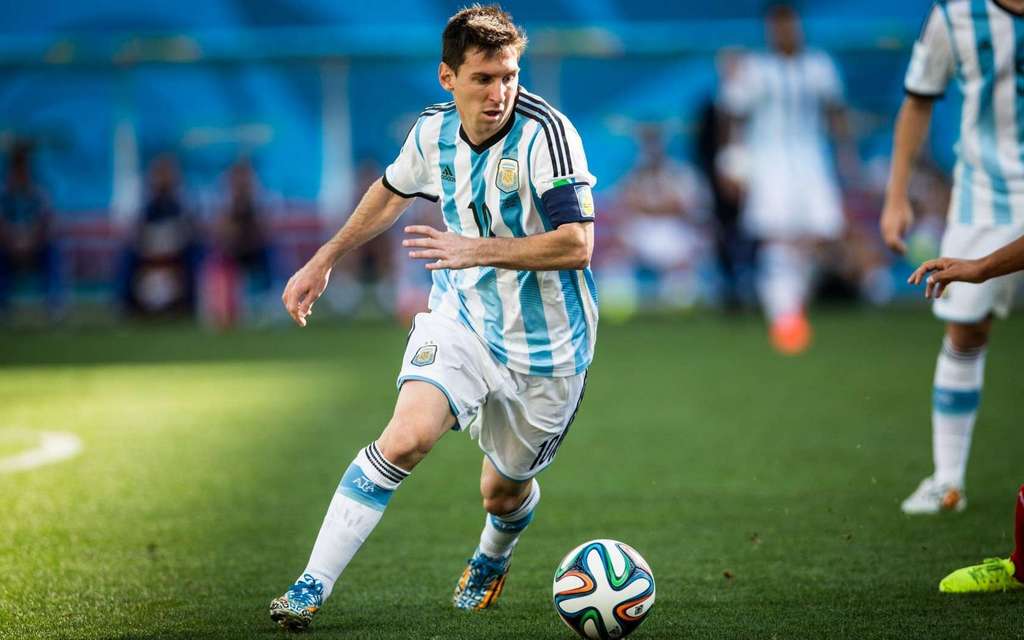 2009–2011: Sustained success
In his first uninterrupted campaign, the 2008–09 season, he scored 38 goals in 51 games, contributing alongside Eto'o and winger Thierry Henry to a total of 100 goals in all competitions, a record at the time for the club.During his first season under Barcelona's new manager, former captain Pep Guardiola, Messi played mainly on the right wing, like he had under Rijkaard, though this time as a false winger with the freedom to cut inside and roam the centre. During a Clásico on 2 May 2009, however, he played for the first time as a false nine, positioned as a centre-forward but dropping deep into midfield to link up with Xavi and Andrés Iniesta. He assisted with a chip his side's first goal and scored twice to end the match in an emphatic 6–2 victory, their greatest-ever score at Real Madrid's Santiago Bernabéu Stadium. Returning to the wing, he played his first final since breaking into the first team on 13 May, scoring once and assisting a second goal as they defeated Athletic Bilbao 4–1 to win the Copa del Rey. With 23 league goals from Messi that season, they were crowned La Liga champions three days later to win their fifth double.
As Messi developed into a combination of a number 8 (a creator), a 9 (scorer), and a 10 (assistant), he scored an unprecedented 73 goals and provided 29 assists in all club competitions during the 2011–12 season, producing a hat-trick or more on 10 occasions. He began the campaign by helping Barcelona win both the Spanish and European super cups; in the Supercopa de España, he scored three times to achieve a 5–4 aggregate victory over Real Madrid, overtaking Raúl as the competition's all-time top scorer with eight goals .At the close of the year, on 18 December, he scored twice in the FIFA Club World Cup final, a 4–0 victory over Santos, winning the Golden Ball as the best player of the tournament, as he had done two years previously. For his efforts in 2011, he again received the FIFA Ballon d'Or, becoming only the fourth player in history to win the Ballon d'Or three times, after Johan Cruyff, Michel Platini, and Marco van Basten. Additionally, he won the inaugural UEFA Best Player in Europe Award, a revival of the old-style Ballon d'Or. By then, Messi was widely considered one of the best players in history, alongside players like Diego Maradona and Pelé.
2012: A record-breaking year
As Messi maintained his goalscoring form into the second half of the season, the year 2012 saw him break several longstanding records. On 7 March, two weeks after scoring four goals in a league fixture against Valencia, he scored five times in a Champions League last 16 round match against Bayer Leverkusen, an unprecedented achievement in the history of the competition. In addition to being the joint top assist provider with five assists, this feat made him top scorer with 14 goals, tying José Altafini's record from the 1962–63 season, as well as becoming only the second player after Gerd Müller to be top scorer in four campaigns.Two weeks later, on 20 March, Messi became the top goalscorer in Barcelona's history at 24 years old, overtaking the 57-year record of César Rodríguez's 232 goals with a hat-trick against Granada.
Under manager Tito Vilanova, who had first coached him aged 14 at La Masia, Messi helped the club achieve their best-ever start to a La Liga season during the second half of the year, amassing 55 points by the competition's midway point, a record in Spanish football. A double scored on 9 December against Real Betis saw him break two longstanding records: he surpassed César Rodríguez's record of 190 league goals, becoming Barcelona's all-time top scorer in La Liga, and Gerd Müller's record of most goals scored in a calendar year, overtaking his 85 goals scored in 1972 for Bayern Munich and Germany.He sent Müller a number 10 Barcelona shirt, signed "with respec t and admiration", after breaking his 40-year record. At the close of the year, Messi had scored an unprecedented 91 goals in all competitions for Barcelona and Argentina. Although FIFA did not acknowledge the achievement, citing verifiability issues, he received the Guinness World Records title for most goals scored in a calendar year. As the odds-on favourite, Messi again won the FIFA Ballon d'Or, becoming the only player in history to win the Ballon d'Or four times.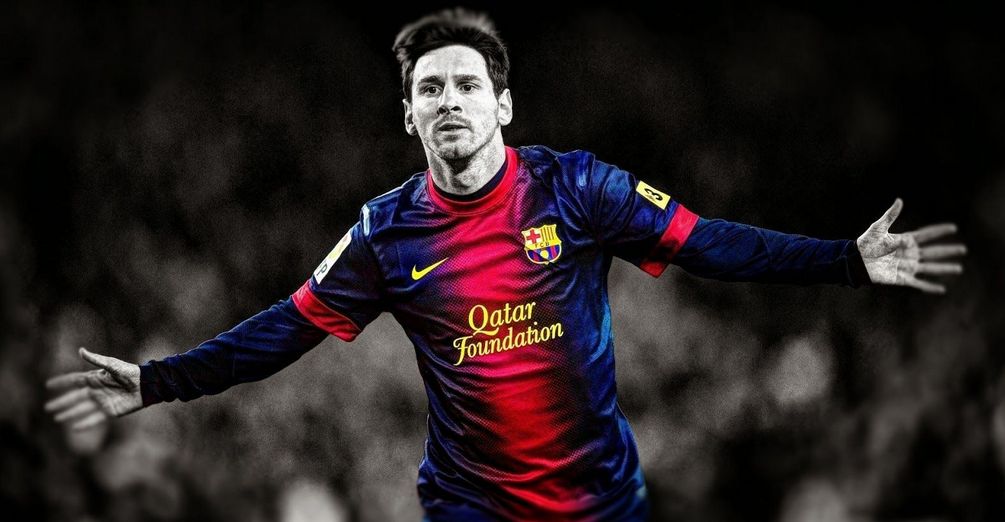 2013–2014: Messidependence
Barcelona had virtually secured their La Liga title by the start of 2013, eventually equalling Real Madrid's 100-point record of the previous season. However, their performances deteriorated in the second half of the 2012–13 campaign, concurrently with Vilanova's absence due to ill health. After losing successive Clásicos, including the Copa del Rey semi-finals, they were nearly eliminated in the first knockout round of the Champions League by Milan, but a revival of form in the second leg led to a 4–0 comeback, with two goals and an assist from Messi.Now in his ninth senior season with Barcelona, Messi signed a new contract on 7 February, committing himself to the club through 2018, while his fixed wage rose to €13 million. He wore the captain's armband for the first time a month later, on 17 March, in a league match against Rayo Vallecano; by then, he had become the team's tactical focal point to a degree that was arguably rivalled only by former Barcelona players Josep Samitier, László Kubala and Johan Cruyff.Since his evolution into a false nine three years earlier, his input into the team's attack had increased exponentially; from 24% in their treble-winning campaign, his goal contribution rose to more than 40% that season.
After prolonged speculation over his future with the club, Messi signed a new contract on 19 May 2014, only a year after his last contractual update; his salary increased to €20 million, or €36 million before taxes, the highest wage ever in the sport. Under their new manager, former captain Luis Enrique, Messi experienced a largely injury-free start to the 2014–15 season, allowing him to break three more longstanding records towards the end of the year. A hat-trick scored against Sevilla on 22 November made him the all-time top scorer in La Liga, as he surpassed the 59-year record of 251 league goals held by Telmo Zarra. Three days later, he scored another hat-trick against APOEL, overtaking Raúl's 71 goals to become top scorer in the history of the Champions League.A third hat-trick, scored against city rivals Espanyol on 7 December, allowed him to surpass César Rodríguez as the all-time top scorer in the Derbi barceloní with 12 goals. Messi again placed second in the FIFA Ballon d'Or behind Cristiano Ronaldo, largely owing to his second-place achievement with Argentina at the World Cup.
2015: A historic treble
At the start of 2015, Barcelona were perceived to be headed for another disappointing end to the season, with renewed speculation in the media that Messi was leaving the club. A turning point came on 11 January during a 3–1 victory over Atlético Madrid, the first time Barça's attacking trident of Messi, Luis Suárez and Neymar, dubbed "MSN", each scored in a match, marking the beginning of a highly successful run.After five years of playing in the centre of the pitch, Messi had returned to his old position on the right wing late the previous year, by his own suggestion according to Suárez, their striker.From there, he regained his best – arguably his best-ever – form, while Suárez and Neymar ended the team's attacking dependency on their star player.With 58 goals from Messi, the trio scored a total of 122 goals in all competitions that season, a record in Spanish football.
Messi opened the 2015–16 season by scoring twice from free kicks in Barcelona's 5–4 victory over Sevilla in the UEFA Super Cup. A subsequent 5–1 aggregate defeat against Athletic Bilbao in the Supercopa de España ended their expressed hopes of a second sextuple, with Messi scoring his side's only goal. On 16 September, he became the youngest player to make 100 appearances in the UEFA Champions League in a 1–1 away draw to Roma. On 26 September, Messi sustained an injury in Barcelona's match against Las Palmas; tests later confirmed that he suffered a tear in the medial collateral ligament of his left knee, ruling him ut for six to eight weeks. He finally returned to the pitch on 21 November, making a substitute appearance in Barcelona's 4–0 away win over rivals Real Madrid in El Clásico. Messi capped off the year by opening the scoring in the 36th minute of the 2015 FIFA Club World Cup Final on 20 December, collecting his fifth club trophy of 2015 as Barcelona went on to defeat River Plate 3–0 in Yokohama, and winning the tournament's Silver Ball, despite missing the semi-final. On 30 December, Messi scored on his 500th appearance for Barcelona, in a 4–0 home win over Real Betis.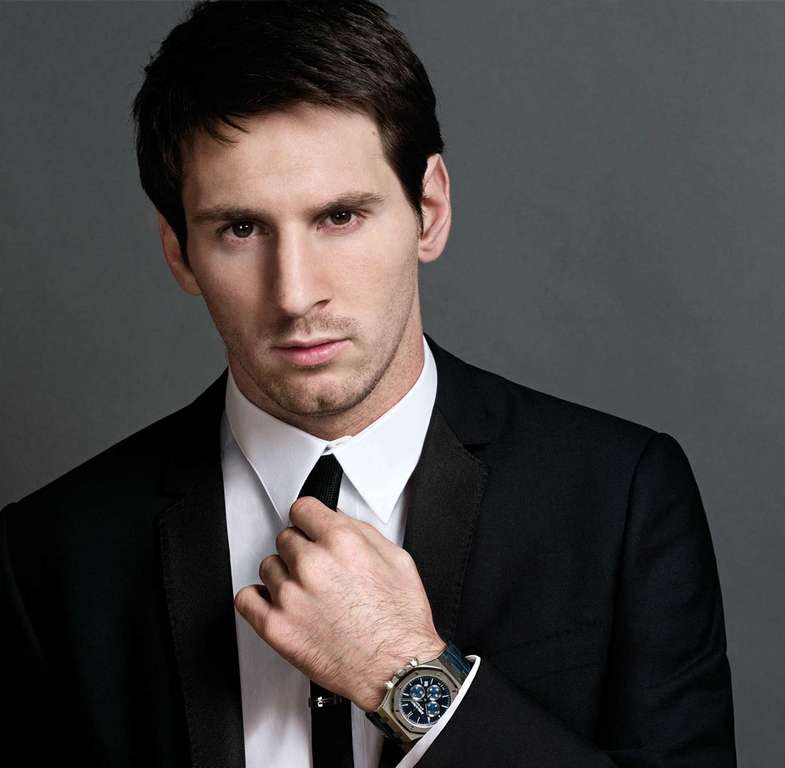 2016: A second consecutive domestic double
On 6 January 2016, recording Barcelona's first goal of the new year, Messi scored two goals and assisted the other two in a 4–1 derby win over Espanyol at the Camp Nou, in the first leg of the round of 16 of the 2015–16 Copa del Rey. Five days later, Messi won the FIFA Ballon d'Or for a record fifth time in his career.
On 3 February, he scored a hat-trick in Barcelona's 7–0 win against Valenciain the first leg of the Copa del Rey semi-final at the Camp Nou, also scoring his 500th career goal in the process, including youth competitions.With teammate Luis Suárez scoring the other four goals in the same match, this was the first time that two players had scored at least three goals each at Camp Nou, and the first time since Luis Suárez Miramontes and Justo Tejada in 1956. The feat had only occurred three times before in the club's history, all at Camp de Les Corts.
The next league match at Camp Nou, a 6–1 win against Celta de Vigo, Messi assisted Suárez from a penalty kick. Some people saw it as "a touch of genius", while others criticised it as being disrespectful to the opponent. The Celta players, however, never complained and their coach defended the penalty, stating, "Barca's forwards are very respectful." The penalty routine has been compared to that of Barça icon Johan Cruyff in 1982, who was battling lung cancer, leading many fans to indicate that the penalty was a tribute to him. Cruyff himself was "very happy" with the play, insisting "it was legal and entertaining".
Messi opened the 2016–17 season by lifting the 2016 Supercopa de España as Barcelona's captain in the absence of the injured Andrés Iniesta; he set-up Munir's goal in a 2–0 away win over Sevilla in the first leg on 14 August, and subsequently scored and assisted in a 3–0 win in the return leg on 17 August. Three days later, he scored two goals and provided an assist to lead Barcelona to a 6–2 victory against Real Betis in the opening game of the 2016–17 La Liga season. On 13 September 2016, Messi scored his first hat-trick of the season in the opening game of the 2016–17 UEFA Champions League campaign against Celtic in a 7–0 victory; this was also Messi's sixth hat-trick in the Champions League, the most by any player.
A week later, Messi sustained a groin injury in a 1–1 draw against Atlético Madrid and was ruled out with injury for three weeks.He marked his return with a goal, scoring three minutes after coming off the bench in a 4–0 home win over Deportivo de La Coruña, on 16 October.Three days after this, he netted his seventh Champions League hat-trick as Barcelona defeated Manchester City 4–0.On 1 November, Messi scored his 54th Champions League group stage goal in Barcelona's 3–1 away return fixture to Manchester City, surpassing the previous record of 53 goals held by Raúl. On 12 November, Messi placed second in the 2016 Ballon d'Or behind Cristiano Ronaldo, who claimed the award for the fourth time.
2017
After placing second in the 2016 Ballon d'Or, on 9 January 2017, Messi also finished in second place, behind Cristiano Ronaldo once again, in the 2016 Best FIFA Men's Player Award.On 11 January, Messi scored from a free-kick in Barcelona's 3–1 victory against Athletic Bilbao in the 2nd leg of the round of 16 of the Copa del Rey, which enabled Barcelona to advance to the quarter-finals of the competition; with his 26th goal from a free-kick for Barcelona in all competitions, he equalled the club's all-time record, which had previously been set by Ronald Koeman. In his next league match on 14 January, Messi scored in a 5–0 win against Las Palmas; with this goal he equalled Raúl's record for the most number of teams scored against in La Liga.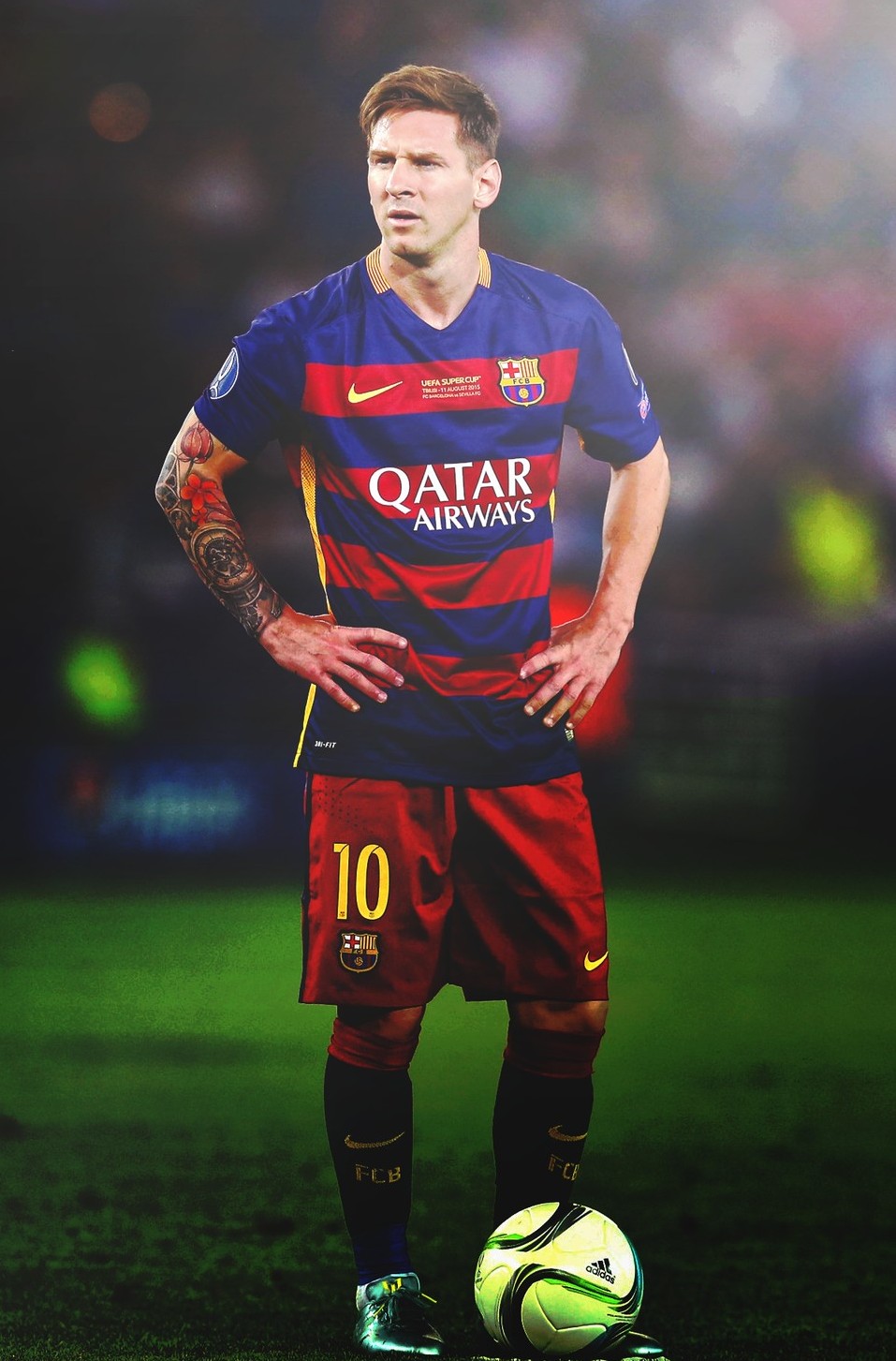 Read More Information : https://en.wikipedia.org/wiki/Lionel_Messi
Unofficial Support site by SBOBET an online bookmaker, Soccer Betting Online via mobile phone